any of Douglas' earliest residents arrived in the community via the railroad. After all, it was the railroad that platted the community's initial streets, establishing Douglas in 1886. The local visitors' center is housed in a historic railroad depot where a steam locomotive and eight rail cars are on display for the public to enjoy. In the downtown area yet another historic train depot is home to a local restaurant.
Douglas' romance with the rail is about much more than history and heritage. Today mile-long trains crisscross the area. They're sometimes loaded with cargo, but more frequently carry coal by the tons from the energy-rich Powder River Basin to the north. They're a dependable, safe and efficient manner by which to transport goods.
Both Burlington Northern Santa Fe and Union Pacific operate tracks within the area and have invested heavily in rail infrastructure beginning with the expansion of the coal industry in the 1980s. Rail siding sites have been developed and developable land is available near the railways.
Currently, rail lines operated by these two major carriers serve markets to the west and north as well as several routes east. Trains travel toward Chicago and the Great Lakes region through Chadron, Neb.; toward Kansas City and the Midwest through Guernsey, Wyo.; and south toward Texas and the Gulf Coast through Cheyenne, Wyo. The common link to all these markets is the confluence of these lines in Converse County about 10 miles east of Douglas.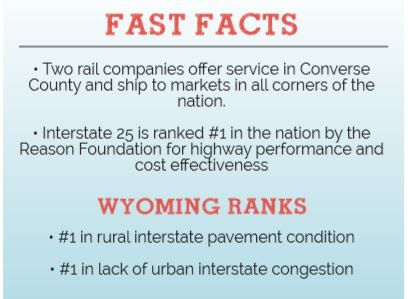 nterstate 25, which begins in New Mexico and connects with Interstate 90, 162 miles north and west near Buffalo, Wyo., bisects Converse County. Interstate 90 can also be accessed in Gillette, located 117 miles due north. Interstate 25 meets Interstate 80 just 131 miles to the south at Cheyenne, Wyo. Access to a quality interstate highway system is readily available in Douglas and access to two transcontinental interstate systems is within close proximity.
Much to the delight of area businessmen and women, Wyoming has done much in recent years to increase the availability of air service in and out of the state. Casper/Natrona County International Airport, located just an hour's drive from Douglas, offers daily flights to Denver, Colorado and Salt Lake City, Utah. Driving to Denver, located 230 miles to the south, is yet another option.
Amidst ample rail opportunities, Douglas is the Grand Central Station of the West. Quality interstate systems and quick access to major airports provide the perfect mixture of life on MOUNTAIN TIME, but within an arm's reach of business essentials like quality transportation.
Did you Know? Douglas received its name once the Iron Horse 63 rolled into town, placing her on the map.