t is not uncommon to find a place where you can make a living. But finding a place where you can enjoy a meaningful, family-oriented, actionpacked life….that is truly special.
Douglas, Wyoming is that dynamic kind of place. "Douglas is friendly, family oriented and educationally minded," says Sue McBride, owner of the Whistle Stop bookstore in the downtown area. "It's the kind of community that helps a friend in need, ensures local students have what they need and comes together to celebrate important milestones." It's the sense of community one comes to expect when living on MOUNTAIN TIME.
Douglas was platted in 1886 when the Wyoming Central Railway established a railway station that today houses the local visitors center and chamber of commerce. Historic houses from the heyday of railroads and big cattlemen can be seen across the community. The tale of early day business is told in the brick façade of downtown merchants.
Over the last 20 years Douglas, Wyoming, has matured as a community. The downtown area is more robust than ever before. A historic movie theater, a bowling alley and a brewery are just a few of the more entertaining features in the downtown area. Gatherings in Jackalope Square, a downtown plaza, speak to the sense of community as citizens gather to enjoy late summer farmer's markets or sing the songs of the season during the holidays.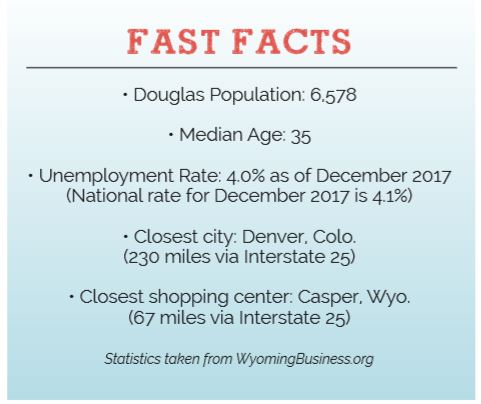 ithin just a short drive of the Douglas community, one can truly enjoy life on MOUNTAIN TIME. Esterbrook, Wyoming, located at the base of Laramie Peak just a short drive south of Douglas, offers breathtaking views, the wide-open vistas where buffalo once roamed. The community serves as a gateway to thousands of acres of public land available for camping, outdoor recreation and the public's enjoyment.
Equally popular is Ayres Natural Bridge, a county park that lies a short drive west of Douglas. Carved by the hands of Mother Nature, the rock archway spans LaPrele Creek. Towering rimrocks surround the park that features camping, playgrounds, hiking trails, fishing, wading and volleyball pits.
The area's rich history is detailed in several historic attractions and locations, most notably the Wyoming Pioneer Museum. Here you'll find the tales of early day outlaws, larger than life cowboy characters and charismatic local citizens who pioneered the idea of life on MOUNTAIN TIME!
We can tell you all about Douglas, but it's truly best if you come experience it for yourself. Bring your family and come sample a taste of living on MOUNTAIN TIME.
Did you Know? The American Bison (or buffalo) was named the State Mammal of Wyoming in 1985.