"can do" attitude prevails here on MOUNTAIN TIME. Whether you are dealing with a fellow business or the area's workforce, you can expect to hear, "Let's figure it out." Wyomingites are known for their ingenuity, integrity and their appreciation for a job well done.
According to the Wyoming Business Council, "Wyoming is not unlike most states in facing an aging baby boomer population. However, Wyoming's second most populated age group is 20-29, and the state's median age of 36.9 is 14th youngest in the country." With a median age of 35, Douglas is trending with the state.
Wyoming's Department of Workforce Services, which has an office in Douglas, specializes in connecting employers with those seeking employment. A service free to Wyoming businesses, the agency helps companies answer questions about the local labor pool. According to the Douglas office of the Wyoming Department of Workforce Services, 6,662 potential candidates are currently seeking work through their agency.
The Wyoming Department of Workforce Services also administers the state's Workforce Development Training Fund. The agency offers grants to upgrade the skillset of existing employees, to train new employees and to help develop Wyoming's labor pool.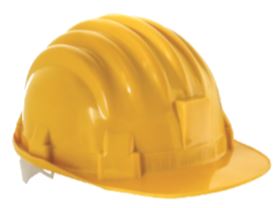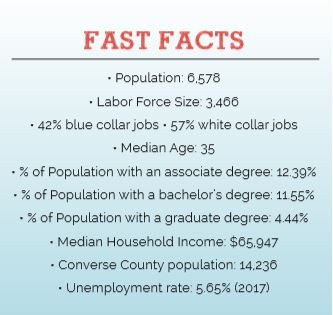 n 2016 Wyoming's workforce development programs earned the state recognition by SiteSelection.com as number one in the category of workforce development. With a new college campus in Douglas, the community is well positioned to deliver Wyoming's workforce development tools.
Eastern Wyoming College has over a 20-year presence in the Douglas community. In 2015 the college completed construction on a new campus building that now houses a wide variety of educational opportunities and modern technology. Completion of the new campus brought not only new opportunities to Douglas and its students, but to area businesses.
In summary, there's a pool of people looking to do business on MOUNTAIN TIME. With an eye on growth, Wyoming has created programs to help your company connect with that labor pool and train the needed staff. In Wyoming, opportunities are abundant.
Did You Know? Converse County's civilian workforce percentage is 75.3%, more than 10 points above the national average.