hat better place to make your home than on MOUNTAIN TIME underneath these western skies? Douglas offers a variety of real estate ranging from old neighborhoods to rural living and most things in between.
Kara Koss of The Koss Agency is quick to commend Douglas for the manner in which the community has been developed. "Our community has very nice areas with homes that will hold their value long-term," says Koss.
July 2019 marked the release of several new housing studies for the community. Those can be accessed as .pdfs at the below links.
2019 Housing Study – Converse County Summary
Housing Study – Douglas 2019
Housing Study – Glenrock 2019
Housing Study – Rolling Hills 2019
While metropolitan America is home to entire lodging facilities that cater to demand during times of construction, Douglas' more traditional lodging properties are accustomed to meeting this need within the community. Properties, listed at ConverseCountyTourism.com, are open to longterm contracts and in some cases have rooms that are more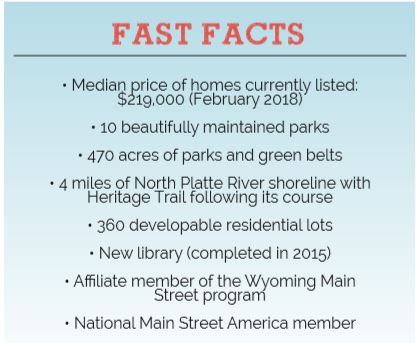 apartment like in the amenities they include. The community offers a wide variety of properties with a great deal of construction taking place in recent years. Workers in the area can choose between historic downtown and newer construction on the community's edges.
We could easily tell you how great Douglas' real estate community is, but we thought it best to provide the numbers and let you contact them directly. You'll undoubtedly hear a friendly, professional voice on the other end of the line. It's just the way we do business on MOUNTAIN TIME.
Did You Know? Douglas is home to one of the top golf courses in Wyoming, just one of the many recreational opportunities in the area.