hether you're walking your child to the first day of Kindergarten or yourself pursuing an advanced degree, Douglas boasts a wide variety of high-quality educational opportunities. Inside the classroom, students receive top-notch instruction. Outside of the classroom, they're encouraged to pursue their interests whether it is through athletics, school clubs or a community with an appreciation for learning. Douglas schools deliver the perfect mixture of student opportunity, while being small enough to ensure your child is not lost in the crowd.
"Because of our committed and highly effective staff members, our students exceed the state average on the PAWS test in both math and reading," says Paige Fenton Hughes, Superintendent of Converse County School District #1 in Douglas. Computer science offerings are being expanded in the school district and upgraded course offerings and curriculums are being explored. Hughes says the school district is willing to partner with organizations and employers to provide background knowledge and develop those skills to make students successful employees.
Hughes says concurrent and dual enrollment courses are being offered via a long-standing partnership between the school district and Eastern Wyoming College. Spring 2015 in Douglas brought the unveiling of a new Eastern Wyoming Community College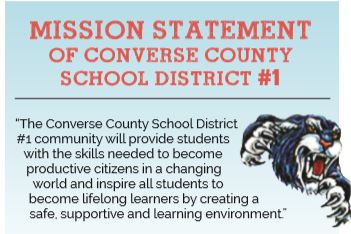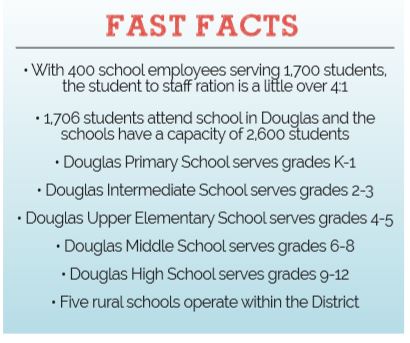 Campus. Community members can take both credit classes and non-credit classes. They can earn everything from a degree in education or nursing to welding.
Those with a thirst for learning will be equally appreciative of the new library in Douglas. Totaling 30,000 square feet, the facility is unique and innovative. The main floor includes two meeting rooms with a retractable wall, resulting in one large room. Cutting edge audiovisual equipment, a laptop computer network, a room featuring local history and a reading porch overlooking the downtown area are just a few of the exciting features. The building contains few hard walls, ensuring it can be easily redesigned and rearranged for changing needs. Classes, workshops, lectures and more are frequently being hosted in the new facility.
Wyoming as a whole offers many highquality opportunities for a post-secondary education at a competitive rate. Beyond the numerous scholarships available in the state, the state operated Hathaway Scholarship program further offsets educational costs for Wyoming's college-aged students. Much money has been invested in new construction in recent years, further bolstering the learning infrastructure and the opportunities to earn a quality education in-state.
Did you Know? Converse County trends 12 points above the national secondary graduation rates at 92.1%.