Beauty & Fitness
Address:
PO Box 204
Glendo, WY
82213
Short Business Description:
PEMF (pulsed electromagnetic field) sessions for people and animals. Cell exercise for overall wellness.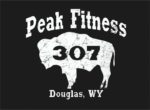 Address:
1185 Yuma Drive
Douglas WY
82633
Short Business Description:
t Peak Fitness we embrace total body wellness. Stop in and check out our healthy eating boards, our motivational quotes and of course our fabulous equipment!

Peak is a checmical and toxic free gym, our cleaning products are all natural and non toxic. We sanitize, clean, and freashend our entier gym holistically!